Since we moved to Umbria in 2011, our curiosity has fuelled the desire to know not only the places, but also the flavours of this beautiful land. And we assure you that there is something for all palates.
Certainly, coming from Lombardy where it is more difficult to find genuine products, it did not seem true to us to be able to discover and even more to taste many fresh local products. This is what we aspired to, especially for our children: to introduce them to new flavours by going shopping directly from the producers. Therefore, we would like you to be able to do the same.
We will always be happy to give you the "right tips" for your culinary shopping, providing you with many useful addresses where you can shop, and if you like: we will be happy to accompany you.
A special beekeeper
When we lived in Northen Italy it never occurred to us to sweeten milk with honey; then when we arrived in Umbria we met Fernando who is much more than a beekeeper, and everything has changed.
We met him at the Mercato della Terra, held on Saturday mornings in the town square of Umbertide: he had a stall with not only many types of honey on display, but also many other novelties where honey has always been the main ingredient.
For a year now, Fernando has no longer had a stall at the market, but no problem, you can visit him directly in his workshop located near the Abbazia di Montecorona which we highly recommend you visit.
The Abbey seems to have been founded in 1008, it was a great centre of meditation, prayer, culture and research with its pharmacy active until 1860, as well as an important place of hospitality for pilgrims and travellers. Under the Upper Church there is the ancient crypt, a real Lower Church where today weddings, baptisms and first communions are celebrated, in a very suggestive atmosphere.
When you arrive at Fernando's you are struck by a pleasant sensation: a mix of wax and honey scents will envelop you and accompany you along an emotional journey to discover the world of bees.
Fernando is an excellent storyteller and has the gift of "knowing how to recount": he is able to involve his guests, even the younger ones, fascinating them with many stories and anecdotes. It is precisely from everything he says that you can understand the unconditional love he has for the world of bees, for the environment, for nature and the passion he puts into his work.
He will make even the most sceptic appreciate his delicacies, because when they discover the fantastic mechanism that lies behind the life of a beehive, even if honey is a flavour that does not convince them, they will still be tempted to taste it.
The composition of honey is closely linked to the composition of the nectar so that two identical honeys cannot exist. And you know the nice thing? There are no antibiotics in Fernando's honey!
Fernando's products
On the shelves of his workshop, you can find various sized jars of wildflower honey, lime, acacia, ivy, orange blossom, and chestnut recommended to calm a cough.
The honey from honeydew is very special because instead of being produced from nectar, it is collected from the tree leaves.
Fernando in addition to the varieties of honey, prepares for the most demanding palates chocolates and chocolates filled with chestnut honey, an excellent spread as well as honey sweets.
For sports enthusiasts, he has created honey dispensers to keep with you during workouts while for those who are attentive to health and uses natural medicine, both pure and drops propolis.
In addition, for the little ones you can buy honeycomb, a very nice idea that Fernando had to introduce children to the world of honey and bees; a small casket of sweetness close at hand where you can admire the hexagonal wax cells built by bees, as if you were inside the hive, used by these very intelligent insects as a warehouse to store honey and pollen or to house their larvae. You will therefore have the good fortune to taste honey in its raw and purest form, not subject to any industrial treatment or processing methods.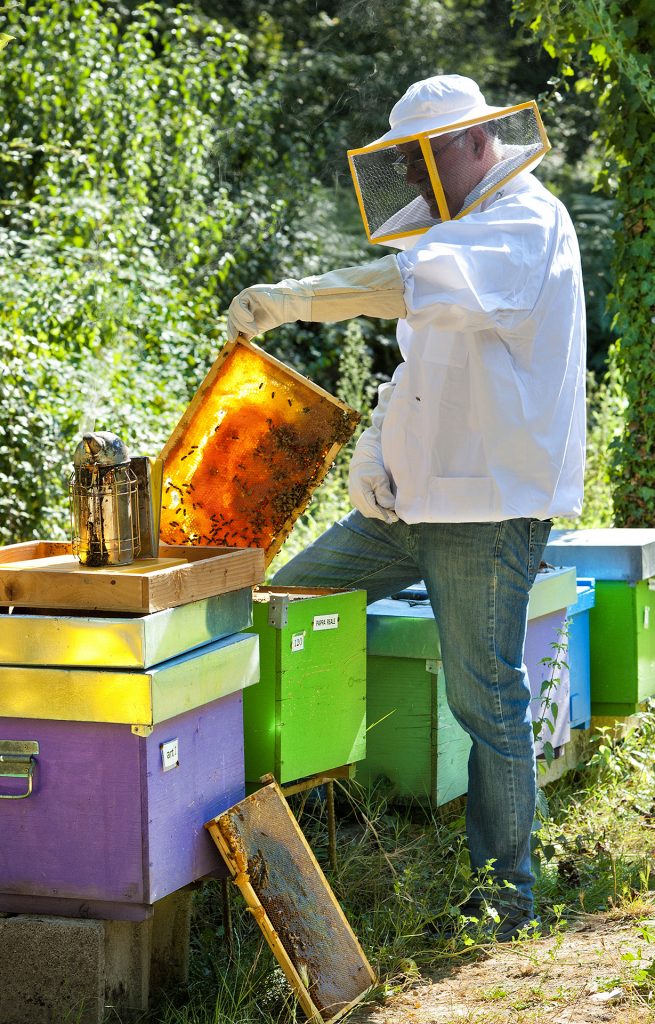 So not only a miracle of nature, but also a cure-all for health because, containing pollen, propolis and royal jelly, it is a very important reserve of vitamins.
Fernando also makes beautiful candles of pure beeswax for all tastes: during the Christmas period, and not only, you can admire nativity scenes, angels, trees, stars, hearts and flowers, all handmade and prepared with skill, an excellent idea for gifts to friends and family.
To make your stay in our farmhouse more pleasant, we have decided to let you find in your apartment a taste of Fernando's honeys, to try with the morning milk or the evening herbal tea.
Our meeting with Fernando led us to a greater awareness of these nice insects, which due to the antibiotics and herbicides used by man in agriculture are now in danger of extinction. We think that for our "tomorrow" and that of our children and grandchildren, we need them because like so many insects they are essential for the pollination of flowers and plants and their extinction would cause great imbalances in biodiversity with catastrophic consequences for the whole planet.