There are few places in the world capable of enclosing so many emotions in such a small area. Umbria is one of them.
A small casket of delicate beauty, with unspoiled nature, made up of places permeated with art and history.
It is the land of panoramas that know how to speak to the soul, that invite silence and meditation.Many roads open up along this region; you can take the one you prefer. The important thing is to enjoy it and treasure everything you see.
Here are some itineraries, to try in all seasons, summarized in 6 photos.
Upper Tiber Valley, a territory to discover
We are in the northernmost part of Umbria, bordering with Marche and Tuscany. Here you can cross a strip of land 50 km long; starting from San Giustino, proceeding south-east, you can stop in Città di Castello: an enchanting centre of ancient origins, full of medieval and Renaissance buildings.
We recommend that you visit at least one of the small villages that embellish this beautiful green area: Citerna, Pietralunga, Santa Maria Tiberina, Montone.
Continuing south, you will find Umbertide, a citadel dominated by a fourteenth -century fortress and kissed by the Tiber river. In just 25 minutes, along a very pleasant panoramic road, you will come across Gubbio: a majestic medieval city nestled at the feet of Mount Ingino, with the fourteenth-century architectural masterpiece of Piazza Grande.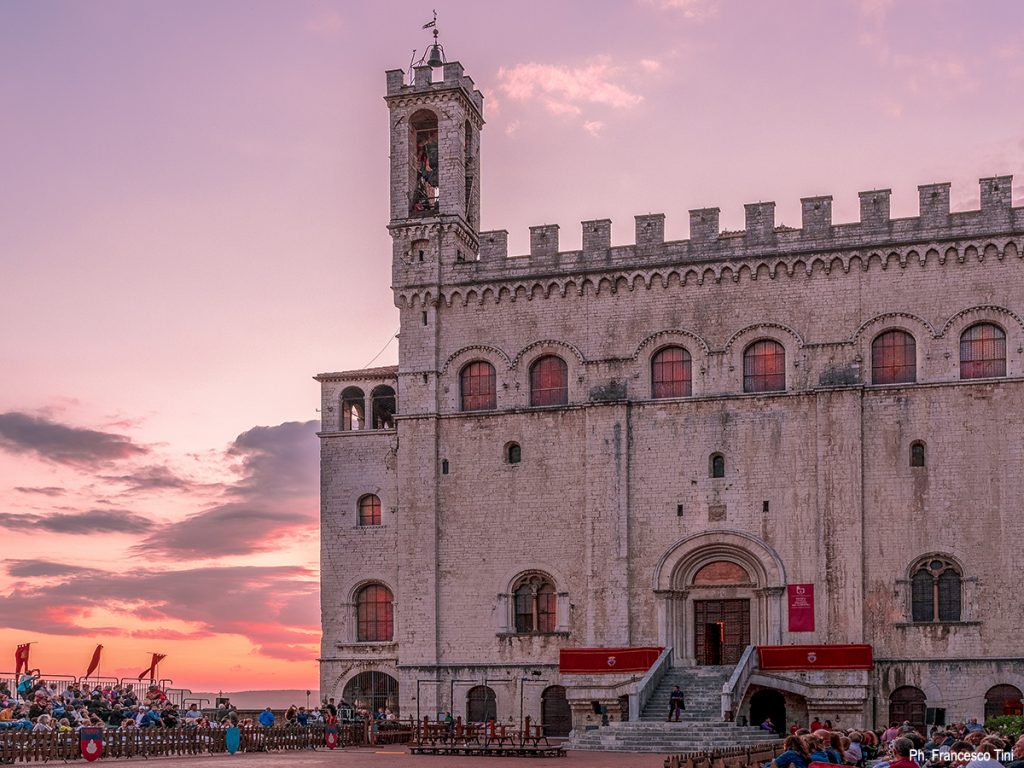 An unusual excursion in Upper Umbria is the one in the lands crossed by the Chiascio river. In a little-travelled area but equally rich in charm, you will meet: Valfabbrica , built from a rich Benedictine abbey which still exists; Gualdo Tadino, an ancient and friendly city, along the Via Flaminia; Fossato di Vico, an ancient settlement of the Umbrian people and then Sigillo, with its large frescoed churches; Costacciaro, built from a fortified castle on the slopes of Monte Cucco and, a stone's throw away, the scattered town of Scheggia and Pascelupo.
Lake Trasimeno, the blue heart of Umbria
From Umbertide, you can also head north-west towards Lake Trasimeno, passing through Corciano: a pretty medieval village on a promontory surrounded by olive groves. Trasimeno is the fourth largest lake in Italy but it is only up to 6 meters deep; a paradise for waterfowl, with coasts rich in a great variety of plant species.
Magione, a centre of ancient wrought iron processing, welcomes you. Then follow Passignano, with its beautiful old town surrounded by medieval walls and Tuoro which has kept the characteristics of an ancient fishing village.
In the middle of the lake, three islands. Polvese, a protected area, Minore, uninhabited, and the enchanting Isola Maggiore, inhabited by a small community: less than 20 people.
Returning to the shore you will encounter Castiglione del Lago, a village perched on a hill from which you can enjoy exceptional panoramic views. Two other villages guard the lake: Panicale, a suggestive terrace on Trasimeno and the small Paciano, a delightful medieval citadel.Not far away Piegaro, known for the artisan work of glass. The village opens the way to Città della Pieve , which dominates Trasimeno and Val di Chiana with great views.
Valle Umbra, gentle ups and downs of villages
Heading from Città della Pieve towards the centre of Umbria, the first stop on the itinerary will be Perugia, the regional capital. A city of art that deserves to be visited and which offers glimpses and mixes of ancient and modern: the Etruscan Well and the Minimetrò , the Rocca Paolina with the escalators inside that lead to the acropolis and the Grande Nero di Burri.
The journey continues along the wide plain in the heart of the region crossed by several waterways, scattered with cities and villages with their charm intact. Like Assisi, lying on Mount Subasio, an important and spiritual centre and homeland of San Francesco; Spello, an open-air museum from the Roman era; Foligno, a rich and industrious city made great by the Trinci family, whose splendid palace can still be visited. Deviating through the valley of the Topino river it reaches Nocera Umbra, a town rich in archaeological finds thanks to its location along the Via Flaminia.
Continuing from Foligno following the Via Flaminia, you will arrive in Trevi, a city of oil and of great religious culture resting on a hill. Going down to the plain, in Campello, you will be able to admire the enchanting sources of Clitunno. The river flows up to Bevagna, a flat village with a magnificent medieval atmosphere; in the immediate vicinity there is Montefalco, a panoramic village surrounded by hills where the delicious Sagrantino is produced.
The last stop of this tour is Spoleto, a city of Roman origin with imposing architectural works and a long-lived duchy established by the Lombards.
Valnerina and Ternano, the land of waters
Continuing after Spoleto you enter the Valnerina, which extends around the upper course of the Nera river. It is an area dotted with small towns; some suggestive and unknown, others more famous. You will find Norcia, the easternmost town in Umbria, famous for its truffles and pork processing; Cascia, city of Santa Rita immersed in the woods. If you are looking for super views, explore the Sibillini Mountains. Climbing to the top, you will have in front of you the immense beauty of Pian Grande di Castelluccio di Norcia: a plateau famous for its colourful flowers between June and July, breath-taking in every season.
From Cascia, passing through Monteleone di Spoleto, you will enter a land of waters, the Nera river and its tributaries, between the provinces of Perugia and Terni.
There is the medieval village of Scheggino, which still retains part of the walls and a tower; a little further down the two spectacular fortresses of Ferentillo, an ancient village with a terrace on the Nera. A stop is a must to admire the great cascade of the Marmore Falls: three limestone clogs that cover 165 meters in altitude; it is one of the highest waterfalls in Europe.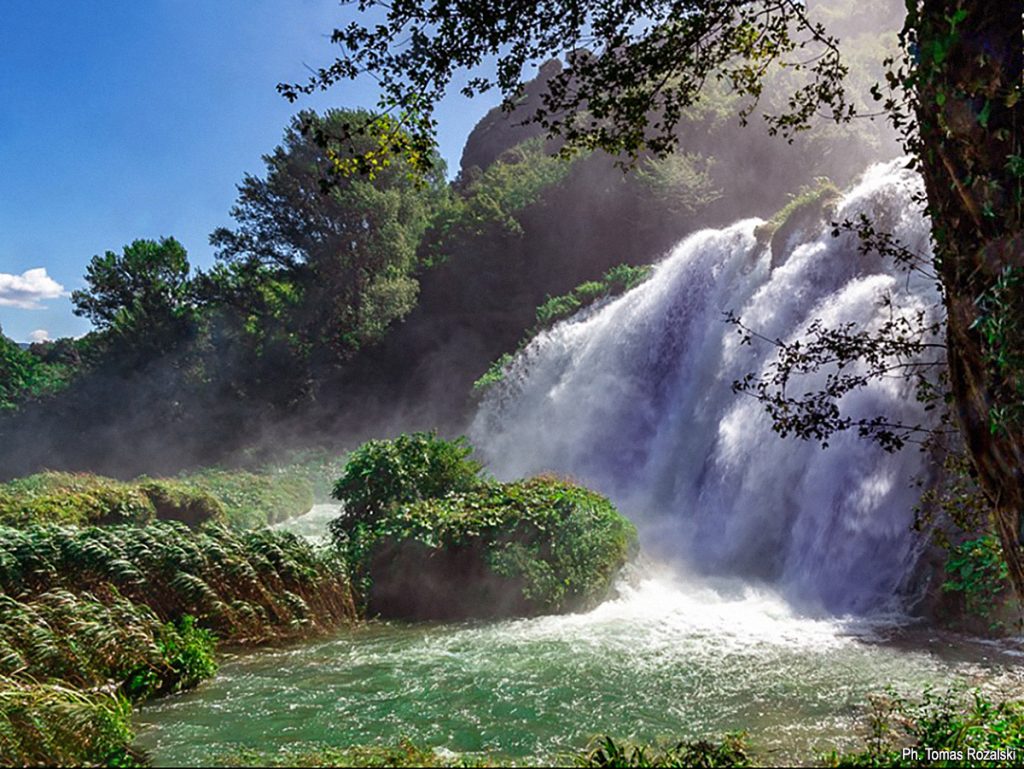 Passing through the small hamlet of Papigno you will arrive at the centre of Terni. City of steel, of Saint Valentine protector of lovers and of archaeological remains (Roman, medieval, Renaissance and Baroque) that survived the bombings of the Second World War.
Near Terni you will find San Gemini, a village that preserves its medieval aspect, known for its mineral water springs, used since ancient times. Between the two municipalities, the Roman archaeological site of Carsulae, the most important in Umbria.
Southern Umbria: castle-villages and abbeys in nature
Beyond the Nera, you can start your itinerary from Narni, a very suggestive medieval citadel; in Roman times it housed a port and a shipyard, as evidenced by the archaeological site of Stifone. You will travel through the south-western territory of Umbria, a succession of tiny castle-villages, churches and abbeys surrounded by nature: it is the territory characterized by the small but beautiful chain of the Amerini Mountains.
From the highest peak you can admire all of southern Umbria included in the Orvieto-Todi-Amelia triangle.
Amelia is a city that flourished in Roman times, second only to Carsulae for the importance of the archaeological finds.
Orvieto is the very famous city built on a tuff cliff. With its neighbourhoods so different in history and features and the extraordinary Duomo it has a magical atmosphere.
40 km away is Todi, founded by the Umbrians on a hill dominating the Tiber Valley. It offers countless historical and artistic ideas, including Piazza del Popolo, one of the most interesting in medieval Italy for the historical and religious buildings that overlook it.
Going up towards Perugia you can stop to admire Deruta, a small town famous for its ceramic manufacturing.
In Umbria there is so much to see that it is difficult to enclose its beauty in a few lines. Let yourself be guided by the gaze and the emotions that its thousand landscapes arouse in you. Visit it far and wide, capture the views you prefer; looking back at them, you will feel that it will be worth exploring.
Follow the Instagram account umbriaunafotoalgiorno for many shots of this fantastic region!